Hi everyone,
I'm just stopping by to let you know that there is a DT call taking place at Winter Wonderland and you can find more information about it here. If you enjoy making Christmas projects and would like to make a head start on your cards this year then we'd love to hear from you!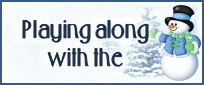 Before I go I just want to apologise for being a bad blogger again this week. There don't seem to be enough hours in the day at the moment but I'll catch up with you all soon! :)
Have a great weekend!
Rebecca.
x